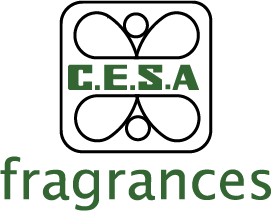 The company CE.S.A.  Fragrances, established in Milan in 1956, has been working for sixty years in the chemical industry, creating fragrances whose purpose is perfuming a large category of products: cosmetics, detergents, soaps, waxes, air fresheners, plastic materials and aerosol machines.  A wide range of applications.
All of our products are the the result of careful research and selection of raw materials in order to meet every need of our customers by coexisting craftsmanship within an industrial context creating a cutting edge production system.
To achieve our goals we are constantly dedicated to research and business development that is always linked to the ability to seek the common good without losing sight of quality, innovation and experience.
The experience gained for decades has allowed the company to evolve over time to meet the new market demands, in accordance with the tradition handed down by three generations of perfumers who are able to offer the best products thanks to the commitment and care that we place in everything we do.
Our team is always ready to meet the requests and needs of each customer, with large flexibility and professionalism, enclosing in the products the necessary documentation for their correct usage.
The fragrances that we've created comply with the most up-to-date safety criteria for their usage, achieved by applying the regulations enforced by the European Community, both on the labeling and with the choice of raw materials, following strictly the indications of the I.F.R.A.
In particular, a fragrance line was created for the cosmetic sector without the 26 allergen substances.
For each production our internal laboratory is able to supply certificates of analysis, suitable to meet the needs of industry and remaining avant-garde with the current control procedures.
The large flexibility of our research laboratory allows us to formulate personalized fragrances, according to the specific needs of the customer, who can thus create his or her own line of exclusive products.
Our passion, combined with diligent dedication and our close attention to detail, gives life to quality products which continually manage to excite our customers. Our commitment to high quality production, results in excellent fragrances and client satisfaction.
The traditional experience gained over time and the raw materials used from the countries of origin, allow us to offer natural essential oils with guaranteed quality and genuinity.
With the continuous search for quality essential oils, we try to provide our customers with the best that the market offers. Even for essential oils, we are able to supply certificates of technical an safety specific analysis for each lot purchased.